Artesania Audio
Absolute Rack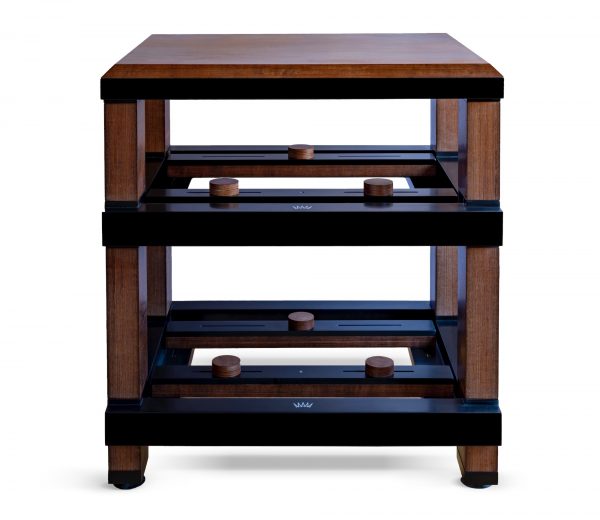 Artesania Audio Absolute Rack
MATERIALS
Manufactured entirely from Krion, Panzerholz wood, elastomer adhesive, Japanese thermoplastic screws, and Titanium elements, with adjustable feet. KRION™ is a new generation solid surface developed by PORCELANOSA Group. The composite material is similar to natural stone but has absolutely no resonance, feels warm to the touch, is highly resistant, and easy to repair. Panzerholz® is a hardened layered panel material made of a combination of phenolic resin and hardwood with a hardened structure. The synergy between Panzerholz wood and the Krion solid surface is absolutely magic.
LINEAR ARMS
The arms are made from Krion, Panzerholz, and elastomer in a constrained layer. The arms hold adjustable Panzerholz discs that can easily be located in different positions, providing flexibility in different positions.
ISOLATION DISCS
The discs support each of the electronic components directly and without any need for shelves. The Panzerholz isolation discs are fixed to the linear arms with Japanese Peek thermoplastic screws. The discs allow easy installation and adjustment by means of only loosening one screw to change the position.
DECOUPLING BASE
Panzerholz discs are supplied for use under the feet which don't damage wood floors or other soft surfaces.
| DIMENSIONS | 3 LEVELS |
| --- | --- |
| TOTAL HEIGHT | 80CM/31,5″ |
| INTERNAL DISTANCE BETWEEN LEGS | 58CM/22,83″ |
| EXTERNAL WIDTH | 70CM/27,56″ |
| TOTAL DEPTH | 57CM/22,44″ |
| | | |
| --- | --- | --- |
| MODEL | KG | LB |
| 3 LEVELS | 120 | 264 |