ORPHEUS PHONO PREAMPLIFIER WITH LCRRIAA EQUALIZER
Multi input micro processor controlled phono stage based on tube gain stages and LCR correction.


Built-in step up transformer
Programmable gain and loading
Accepts both balanced and unbalanced input signals on RCA and XLR connectors
Switches ground plane with input selection preventing ground loops
Balanced and unbalanced output
Programmable ground arrangement for large systems
Programmable absolute phase per input
Choke input rectifier for lowest switching noise
Shunt regulated constant current PSU for lowest noise and best dynamic behaviour
Modular construction
Microprocessor controlled
Interlocking solid aluminium chassis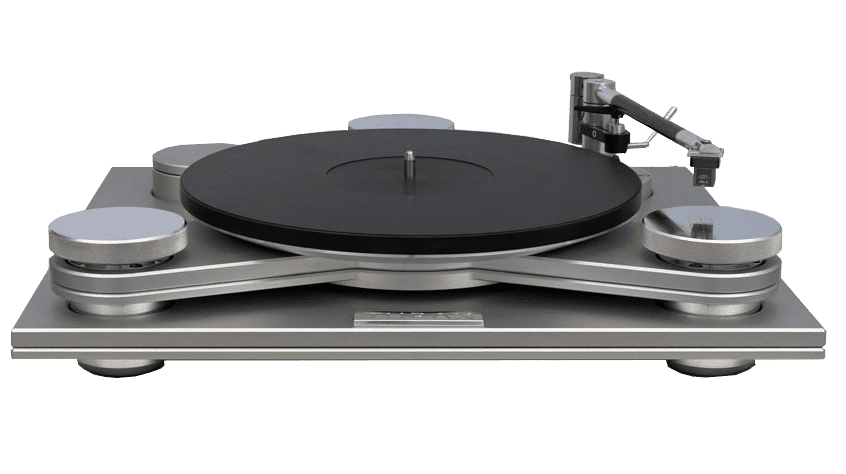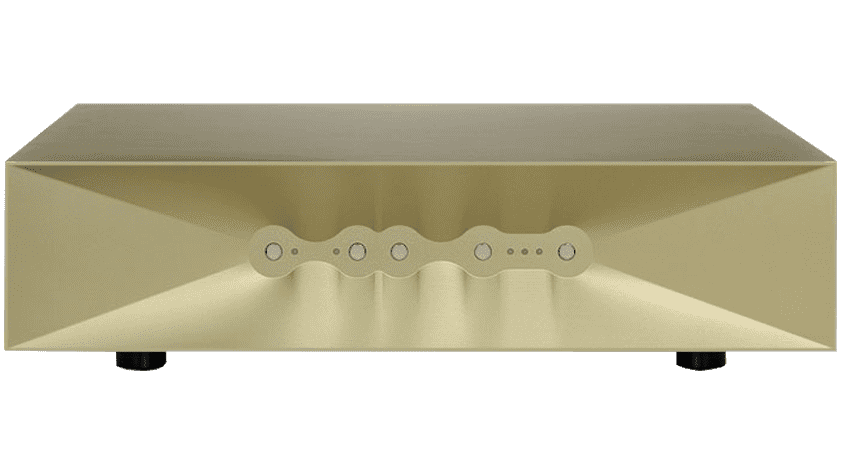 Orpheus uses two tube gain stages with zero feedback and a passive LCR equalizer with 2 inputs on RCA and one on XLR connectors. All inputs are balanced differential unless the grounding option is engaged on the RCA inputs. As we switch the ground plane when switching inputs there are no hum loops or induced ground noise.
The input stage is a super low noise D3a German Post tube used as a triode. Loaded by a constant current cascode it provides the necessary gain and output impedance to feed the custom passive LCR RIAA correction following it.
The switchable input transformer interfaces to MC cartridges and has selectable gain and loading impedance.
The equalization is passive and the next stage is another super low noise tube loaded by a transformer to bring the signal up to the necessary level and provide complete isolation of this sensitive circuit from the following components.
The filter is out of any gain loops and sits between the two gain stages protected from any unpredictable influences.
The equalization is realized through the use of constant impedance LCR filters using coils wound with OFC wire and silver capacitors.
This way the input stage sees a constant load, making its behavior predictable at any signal level.
The power supply of Orpheus uses a choke input full wave tube rectifier arrangement. This eliminates switching noise and any other disturbance that comes before the choke. The other benefit of this topology is that the choke keeps the voltage on the capacitor bank constant.
All this is governed by a microprocessor switching the appropriate combination of relays and monitoring the status and incoming command.
The chassis is milled in house from solid plates of different thickness aluminium that are interlocked together to form a ring like structure.
We have the power supply mounted on the left sidewall of this structure and the signal transformers on the right side. Two semi-flexible bars on which the motherboard and its heat sink are attached, which then support this ring.T
he top and bottom plates link all sides of the ring with the flexible bars and the feet made from carbon doped plastic on flexible screws.
There are no screws visible anywhere on the chassis. And the chassis feels like a solid block.


2 x RCA, 1 x XLR – MM or MC phone
2 x D3a amplification
2 x 6C4П (6S4P) amplification
Silver Anodized Aluminum.