HEROS CLASS A HYBRID – TUBE/FET
AMPLIFIER
Heros is a very unusual hybrid transformer loaded amplifier marrying old concepts with the latest technology. The numerous benefits from using an output transformer are usually ignored mostly due to cost reasons.
Yet when done correctly the result speaks for itself.


Tube amplifier architecture with the simplest signal path
Transformer coupled input and output
MOSFET output devices
Silicon Carbide diodes in power supply
Microprocessor control
Selectable speaker impedance
Our favorite 6N6P tube used / 6N6P tube
Fully balanced differential operation
RCA and XLR inputs
Compact chassis built like a tank
100W Class A power output
DC-coupled, no capacitors in signal path
Choke filtered power supply
Modular design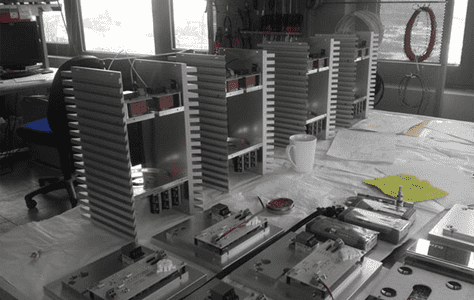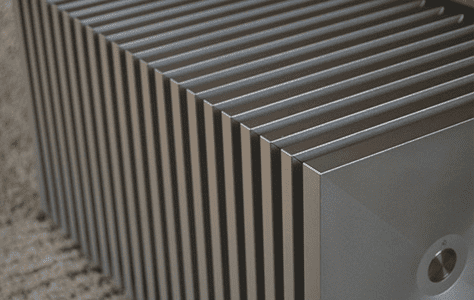 It features a single differential DC coupled FET/Tube stage working a a super tube loaded by a low impedance push-pull transformer helping improve the efficiency to almost double that of a normal Solid State Class A design with no DC on output and many other benefits.
For a fully differential architecture we split the phase with the input transformer and sum it back up with the push-pull output transformer.
This solution completely floats the inside of the amplifier isolating it from any external influences.
The design being fully differential makes Heros immune to power supply noise.
The power supply uses Silicon Carbide diodes followed by a choke preventing any switching noise from reaching the output stage. The result is an amplifier free of grain and fizziness, giving new meaning to transparency and tone.
We use our beloved 6N6P audiophile tube and the highest-grade audio transformers.
Operating all devices in class 'A' produces a fair amount of heat, so the whole chassis is a heat sink. It is the most compact 100-watt class A solid state amplifier available.
The chassis is designed to cope with the heat produced by the components and provide a vibration-free structure to house them.
Blending this with stylish aesthetics produced a beautiful sculpture – To be known as Heros.


1 unbalanced RCA connector
1 balanced XLR connector
1x 6N6P special selection for matching halves


First introduced in 2012 as the market demanded a no glass tube power amplifier the Heros was designed as a direct alternative to the emblematic Spartacus. Same form factor and aesthetic values. It featured a 5687 input tube driving a cascoded FET follower via capacitive coupling with stacked power supplies.
Essentially an exemplary differential tube amplifier with solid state pentodes.
While working on the move to the Teres size chassis our new DC coupled circuit was developed and implemented taking the 2020 Heros Mk2 to a completely new level.
The original Heros still holds its ground and should be a tasty grab if it ever reaches the second hand market.